TELL THE STORY OF OUR FREEDOM
We make the solidarity economy movement irresistible by resourcing and investing in artists, culture workers, storytellers, and narrative infrastructure.
2023 FOCUS
We're creating a robust set of foundational materials that advance our network's radical vision, narrative, and theory of change for regional solidarity economy ecosystems. We're continuing to invest in artists, cultural workers, and storytellers as key organizers in our movement.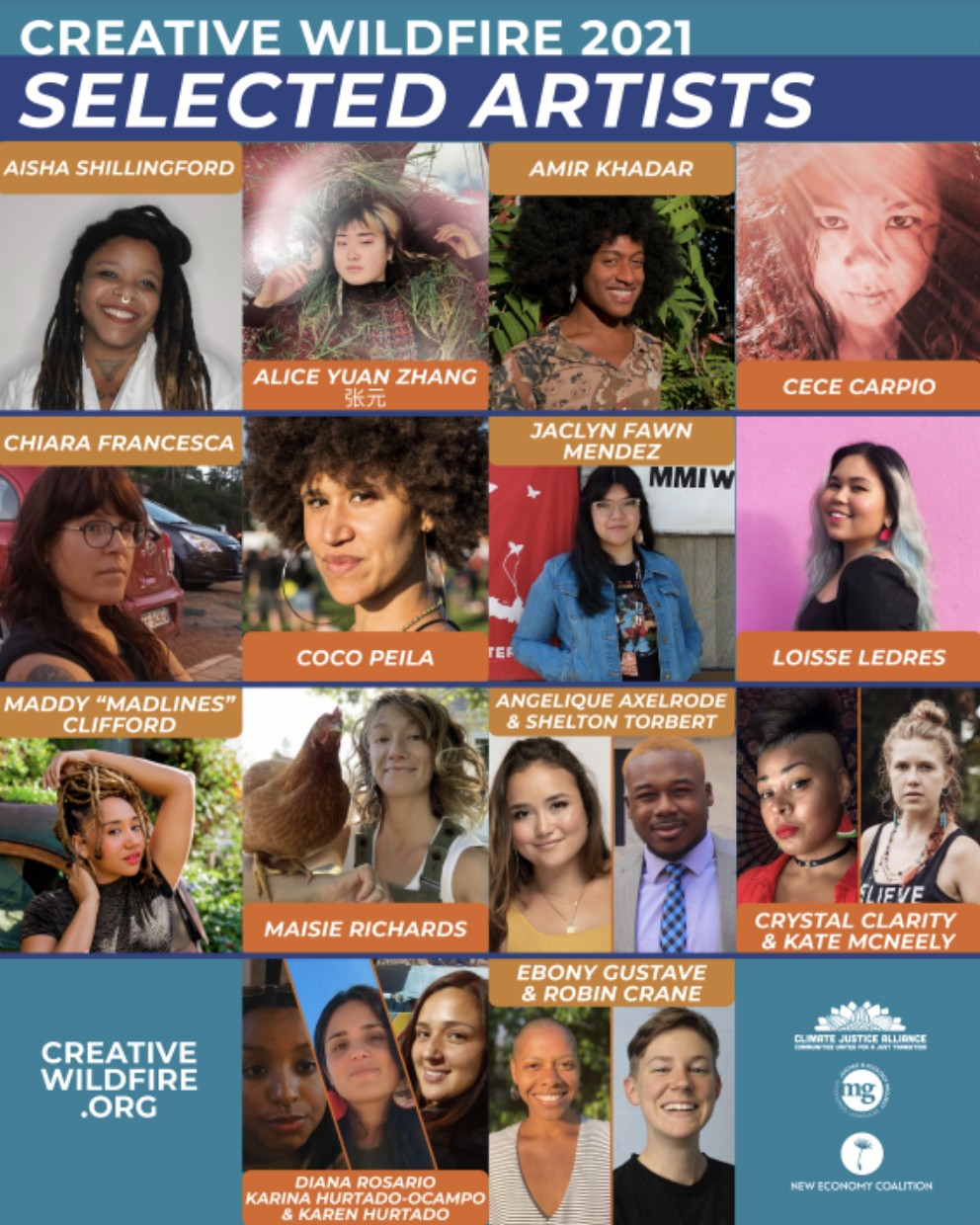 Born out of a collaborative manifesto written by solidarity economy cultural organizers seeking to resist a return to "normal," Creative Wildfire is a cultural and narrative shift strategy that supports artists to popularize the vision of the solidarity economy through popular education, mentorship and financial support. This project is a collaboration alongside Movement Generation and Climate Justice Alliance, and is currently in the planning stages for a second cohort in 2023.
Our bimonthly newsletter, the New Economy Roundup, tracks the pulse of the solidarity economy movement. Sign up to get highlights of our 200+ members and many other building solidarity economies around the world. You can also get the latest from the  movement on our Instagram, Twitter, and Facebook.
Comms Working Group
The Comms Working Group is a community of practice that cooperates, strategizes, and shares skills together, while building collaboratively towards popularizing the vision of the Solidarity Economy (SE) to communities most impacted by economic destruction in the United States. Intends to be a platform for sharing resources/ideas/inspiration, and to serve as a reference for communicators within the network for collective action.
Arts, Culture, and Care in the Solidarity Economy Working Group
This working group is a space for artists and culture bearers to learn, collaborate, and advance solidarity economy efforts in their organizing, creative work, and personal lives. It is also a space for celebrating and advocating for the central role arts and culture play in a just transition to a solidarity economy. We intend to weave a shared language, and cultivate a culture of knowledge sharing. This working group is the result of organizing by NEC members and allies like US Solidarity Economy Network, Cooperation, Humboldt and Highlander Center who have been organizing since November 2020 via a "gestation" group around the "Artists Dismantling Capitalism" conference.
Movement Voices
Movement Voices was a 2018 fellowship and training program for solidarity economy leaders looking to develop their skills as public communicators and media spokespeople. The purpose of the program is to increase the number of leaders who are prepared to effectively communicate with the media, and to build network infrastructure that can get those spokespeople featured regularly in media that reaches beyond the choir.
New Economies Reporting Project
The New Economies Reporting Project was a fellowship run from 2017-2020 for reporters who wanted to develop their understanding of the solidarity economy and solutions-oriented journalism. In the three years of this program, we trained more than 35 journalists who report for a diverse set of publications, including CBS News, WNYC, and Teen Vogue. Our reporting fellows have produced hundreds of original articles, video reports, and radio segments on solutions stories from across the United States, exposing readers and audiences to critical perspectives that have been underrepresented in the mainstream press.