News & Resources
Read our biweekly newsletter, get resources from our members, and see the latest updates from our staff.
NEC NEWSLETTER
New Economy ROUNDUP
Sign up below to receive our bi-weekly New Economy Roundups highlighting the work of our 200+ members and many other building just and sustainable economies around the world.
This week we're talking about efforts to bring the Crenshaw Mall in LA into community ownership, funding for rural electric co-ops in the Biden Jobs...
community highlights
Resources from our Network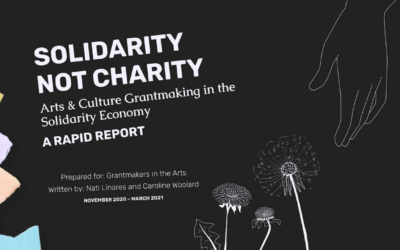 "This report, commissioned by Grantmakers in the Arts, is about the ways that arts and culture grantmakers can engage in systems-change work. The...
"Bylaws can either be dusty legalese documents with no meaningful impact on your organization, or they can be a living, breathing record of how you...
The Ujamaa Hour is a monthly webcast hosted by writer, facilitator, and organizer, Michael Tekhen Strode, exploring the Black social and solidarity...
In this moment of crisis, worker cooperatives are a reliable, proven solution to address loss of jobs as well as income inequality. COVID-19 has...
"Mutual aid networks exploded onto the scene with pandemic shelter-in-place orders. By some counts, there are well over 1,000 new mutual aid...
This mixtape is an offering of nourishment and care to the abolitionist community. Learn from some of the people who have been practicing and...
news & updates
What's new with NEC?
Location: Remote, USA Length of contract: 6 months Time Commitment: Full-time temporary contract position (32 hours per week) Application deadline: ASAP, proposals submitted by Feb 17 are given priority Compensation: Because we are considering individual candidates as...
Location: Remote, USA Length of contract: 12 months (with possibility to become permanent) Compensation: $55,000-$70,000 plus generous benefits package. Our staff practices needs-based compensation rather than market-based compensation, which means that staff are...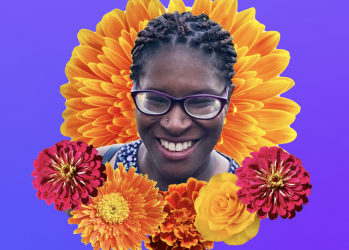 This organization and our movement would not exist as it is today without Elandria Williams. As this network and the solidarity economy movement in the United States has evolved, Elandria has accompanied us every step of the way with crystal clear vision, deep faith, and unrelenting passion.
In the spirit of collective care, NEC is taking the week of July 27th off to recognize the impact that the pandemic and uprisings have had on our staff. NEC staff will not be responding to communications or posting to social media for this week. Thank you for your patience while we pause to prioritize rest and reflection over productivity in this moment.
Please join us in celebrating our incredible 2019-2020 New Economy Reporting Project Fellows, who closed out their fellowship in early June.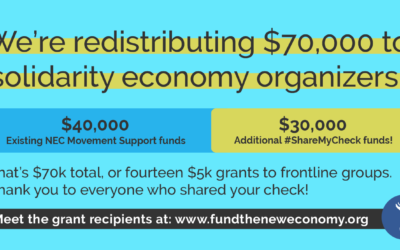 Thanks to 98 donors, we raised an additional $30,000 for NEC's Movement Support Fund, for a total of $70,000 redistributed through fourteen $5,000 grants to solidarity economy organizers.
make it possible
support
our work
Donating to NEC supports a powerful network of solidarity economy organizers building a movement that is transforming the way we live, work, eat, and do business.