News & Resources
Read our biweekly newsletter, get resources from our members, and see the latest updates from our staff.
NEC NEWSLETTER
New Economy ROUNDUP
Sign up below to receive our bi-weekly New Economy Roundups highlighting the work of our 200+ members and many other building just and sustainable economies around the world.
2020 seemed to last a century. Despite being the year that the term "doom scrolling" was coined, we also saw an unparalleled number of stories about...
community highlights
Resources from our Network
What can we let go of if we had community control of all resources? Would we need police if all of our universal needs were met? Do we even need police now? The #BlackLivesMatter uprising has us questioning the role of police in the solidarity economy.
Billionaires dominate our politics, culture, and economy. Their wealth, as this report shows, has concentrated mightily over the last four decades — even as the number of U.S. households with zero or negative net worth is increasing and most of us are living paycheck to paycheck.
The current pandemic is exposing our central economic and social reality: Extreme wealth inequality has become America's "pre-existing condition."
In this report, we show how billionaire wealth has grown astoundingly over the last few decades — and, for some "pandemic profiteers," even more dramatically since the COVID-19 crisis — even as billionaire tax obligations have plummeted.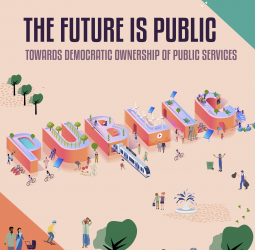 Civil society organisations, trade unions, and local authorities are crafting new templates for how to expand democratic public ownership to all levels of society and opening up new routes to community-led and climate conscious public services.
This report shines a light on long-hidden business practices that have rendered the food system rigid and unable to respond to crises like the one brought about by COVID-19.
State of the Dream 2020: Building a Fair Economy at the Intersections makes clear that entrenched racism and sexism is sustaining yawning economic inequities in the U.S. This well-rounded report features research, stories, interviews and a practical resource through a popular education workshop exercise that helps us fight for a fair economy and ensures all of us can thrive.
If ever there was a moment for cultural strategy — it's now. A global pandemic has magnified the flaws of our capitalist system, but, also, the power art and culture to uplift, disrupt and build community. The Center for Cultural Power offers #NoGoingBack: A COVID-19 Cultural Strategy Activation Guide for Artists and Activists to meet the moment.
news & updates
What's new with NEC?
Last month, NEC's Co-Directors met to discuss how to address the coronavirus pandemic. We are a national network with a bold vision. Before the COVID-19 crisis, our staff and members worked day in and day out to transform our economy to one that puts people and the...
'Like many of you, we are reeling. In these uncertain times, our first priority has been to make sure our team is safe and cared for. We are adjusting internal policies and reassessing plans for the next few months. As we settle into this new reality and those plans...
'Heartbreakingly, families losing their jobs to #COVID19 are also losing their power & water. That's unacceptable. 575+ groups (including NEC and members like the US Federation of Worker Cooperatives, Democracy Collaborative, Beneficial State Foundation,...
Today we are excited to share a new toolkit to support activists and organizers like YOU across the country.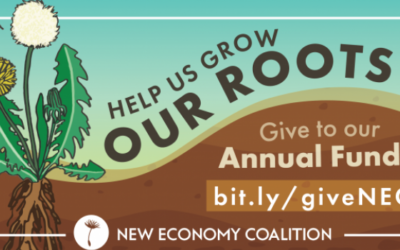 In 2020, we're ready to take our work deeper. But we need your support! Our goal is to raise $100K by the end of the year, so that we can build a solidarity economy movement that cannot and will not be ignored. Our Interim Co-Director, Kelly Baker, explains why your support is crucial as we enter a new decade
NEC has partnered with the worX printing cooperative, and union merchandising platform FII Marketing to bring you on-demand access to Fire The Bosses T-shirts, Totes, Mugs, and Bumper Stickers.
make it possible
support
our work
Donating to NEC supports a powerful network of solidarity economy organizers building a movement that is transforming the way we live, work, eat, and do business.