News & Resources
 Read our biweekly newsletter, get resources from our members, and see the latest updates from our staff.
NEC NEWSLETTER
New Economy ROUNDUP
Sign up for our bimonthly newsletter, the New Economy Roundup, to get highlights of our 200+ members and many other building solidarity economies around the world.
community highlights
Resources from our Network
This handbook is a practical manual for individual artists who would like to begin or deepen this kind of artistic practice – work in and work with community. The stories, tools, and wisdom shared here were gathered from creative practitioners who regularly do this work.
news & updates
What's new with NEC?
Location: Remote, USA Length of contract: 12 months (with possibility to become permanent) Compensation: $55,000-$70,000 plus generous benefits package. Our staff practices needs-based compensation rather than market-based compensation, which means that staff are...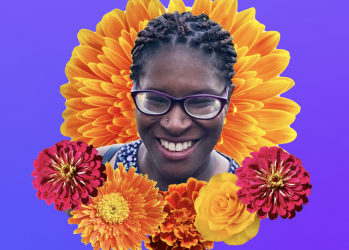 This organization and our movement would not exist as it is today without Elandria Williams. As this network and the solidarity economy movement in the United States has evolved, Elandria has accompanied us every step of the way with crystal clear vision, deep faith, and unrelenting passion.
In the spirit of collective care, NEC is taking the week of July 27th off to recognize the impact that the pandemic and uprisings have had on our staff. NEC staff will not be responding to communications or posting to social media for this week. Thank you for your patience while we pause to prioritize rest and reflection over productivity in this moment. 
Please join us in celebrating our incredible 2019-2020 New Economy Reporting Project Fellows, who closed out their fellowship in early June.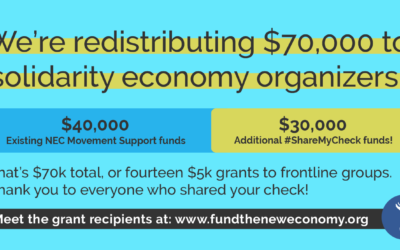 Thanks to 98 donors, we raised an additional $30,000 for NEC's Movement Support Fund, for a total of $70,000 redistributed through fourteen $5,000 grants to solidarity economy organizers.
Last month, NEC's Co-Directors met to discuss how to address the coronavirus pandemic. We are a national network with a bold vision. Before the COVID-19 crisis, our staff and members worked day in and day out to transform our economy to one that puts people and the...
make it possible
support
our work
Donating to NEC supports a powerful network of solidarity economy organizers building a movement that is transforming the way we live, work, eat, and do business.