News & Resources
Read our biweekly newsletter, get resources from our members, and see the latest updates from our staff.
NEC NEWSLETTER
New Economy ROUNDUP
Sign up for our bimonthly newsletter, the New Economy Roundup, to get highlights of our 200+ members and many other building solidarity economies around the world.
community highlights
Resources from our Network
This handbook is a practical manual for individual artists who would like to begin or deepen this kind of artistic practice – work in and work with community. The stories, tools, and wisdom shared here were gathered from creative practitioners who regularly do this work.
news & updates
What's new with NEC?
Please join us in celebrating our incredible 2019-2020 New Economy Reporting Project Fellows, who closed out their fellowship in early June.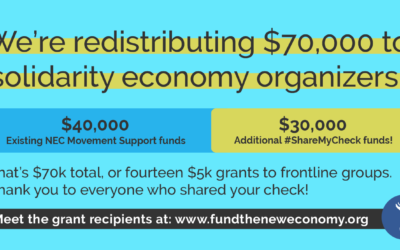 Thanks to 98 donors, we raised an additional $30,000 for NEC's Movement Support Fund, for a total of $70,000 redistributed through fourteen $5,000 grants to solidarity economy organizers.
Last month, NEC's Co-Directors met to discuss how to address the coronavirus pandemic. We are a national network with a bold vision. Before the COVID-19 crisis, our staff and members worked day in and day out to transform our economy to one that puts people and the...
'Like many of you, we are reeling. In these uncertain times, our first priority has been to make sure our team is safe and cared for. We are adjusting internal policies and reassessing plans for the next few months. As we settle into this new reality and those plans...
'Heartbreakingly, families losing their jobs to #COVID19 are also losing their power & water. That's unacceptable. 575+ groups (including NEC and members like the US Federation of Worker Cooperatives, Democracy Collaborative, Beneficial State Foundation,...
Today we are excited to share a new toolkit to support activists and organizers like YOU across the country.
make it possible
support
our work
Donating to NEC supports a powerful network of solidarity economy organizers building a movement that is transforming the way we live, work, eat, and do business.